Nerf Blasters and the 1st Nerf Targets hit the market in 1989 and after 32 years there has been numerous Upgrades and Changes to the Nerf Blaster.
Unfortunately, The same innovation and technology has not been applied to Nerf Targets for Shooting Darts. The result is…The Foam Dart Blaster keeps getting better and better.
But after all these years…the only Nerf Targets available are still the Old Fashioned, Cheap, Flimsy Toy Targets that are available online or toy stores. Some Examples.
After looking at and trying a variety of these Toy Nerf Targets… We decided that These Toys Targets Were Not Good Enough for Nerf Shooters who really like to shoot. We also could see that these Old Fashioned Toy Targets would not Hold Up to Modern Nerf Blasters or Custom High FPS Blasters.
We decided to Build Our Own Nerf Target and the Blaster Shot Foam Dart Score Keeping Target was conceived...We Spent the next 3 years pouring over the latest wireless, impact sensing and lighting technologies and applied these technologies to the Blaster Shot Score Keeping Target.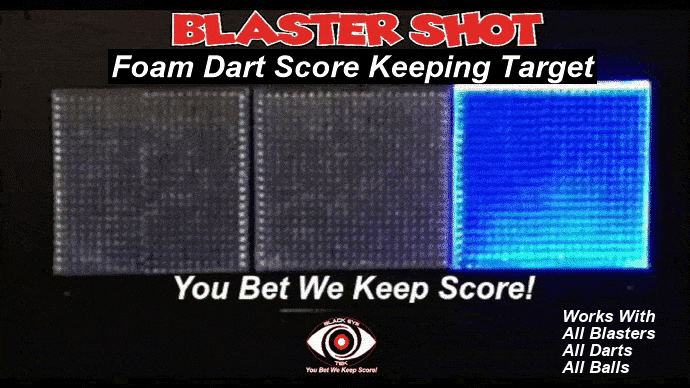 After intensive testing…10,000 Nerf Darts Shot…The Blaster Shot Foam Dart Target was created!
Blaster Shot Target is the only programmable, Score Keeping Target that tracks all Shooters Info and Displays All Hit Info to a Phone or Tablet In Real Time.
If you love shooting Nerf Darts or Balls & just won't put down your Foam Dart Blaster…Blaster Shot Target is a Must Have!
We discovered 1 Cool Benefit…Blaster Shot Score Keeping Target also Works with Gel Ball, Gellyball, Bazooka Ball and Archery Tag.
There is Nothing That Can Beat The Rush of Aiming At a Target…Shooting At It…Then Actually Knowing You Hit the Target!… NOTHING!
Blaster Shot Target has everything a Nerf, Gel Ball, Gellyball or Archery Tag Shooter needs for Excitement…Flashing Lights…Sound Effects and The Best Part…Real Time Score Keeping
Do yourself a Favor…Watch 30 Seconds of Intense Blaster Shooting…See for yourself…Just how Exciting and Accurate this Nerf Score Keeping Target Really Is!
If you have any Questions About Blaster Shot Target Shooting Galleries or Score Keeping Vests That works with All Nerf blasters, Gel Ball Blasters and Archery Tag Bows…CLICK TO CALL or Contact Us!… We will be Glad to Help!
Any Reference to Nerf, Gellyball or Bazooka Ball does not indicate any Business Relationship between Black Eye Tek and Hasbro or any of it's Affiliates or Gellyball or any of it's Affiliates or Media Vision or any of it's Affiliates . The Use of the term Nerf, Gellyball or Bazooka Ball is only used as a Reference to Nerf, Gellyball or Bazooka Ball Type of Game